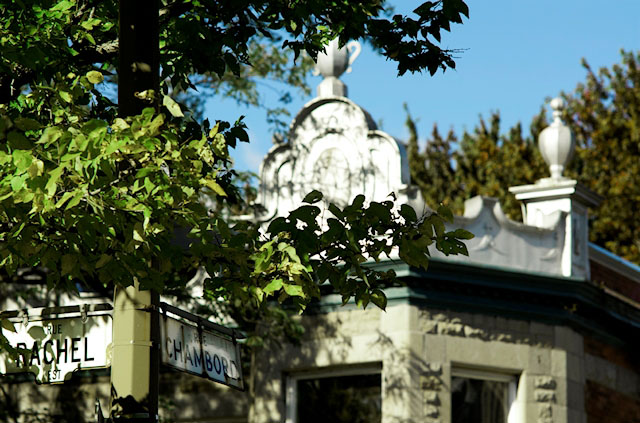 Our Mission
A not-for-profit organization, the Maison du Parc welcomes men and women stricken with HIV/AIDS. It offers a palliative care program and accompaniment for the physical, psychological and social needs of our residents.
Confronted with the harsh reality of the rising number of HIV/AIDS cases in the Montréal area, the Maison du Parc also develops complementary support services for those afflicted living at home and their families.
Our Values
At the Maison du Parc, we tend to all aspects of a resident's well-being. Our approach is one of community action aimed at one's potential, not one's limitations; its focus is autonomy rather than dependence. We also believe that a person afflicted with HIV/AIDS has the right to confidentiality, the right not to be judged or discriminated against and the right to dignity.
Our History
The Maison du Parc was founded in Montreal in April 1991 and is one of the last HIV/AIDS housing facilities still operating in Quebec.

The Maison du Parc welcomes people from all cultural and ethnic backgrounds. Our history is one of involvement, of caring and support who has evolved to meet the evolution of HIV/AIDS in Quebec.
In the early years it was an end of life hospice, a refuge for those afflicted with HIV/AIDS, with low income, no support system and no future.
With the advent of new treatments, services were expanded to include support for a return to normal life and social re-integration.

Subsequently, a community monitoring program for people living with HIV/AIDS was put into place. The Maison du Parc was the first to implement a satellite apartment program for those weakened and in need of support to cope with the disease.
By the acceptance of trainees from Quebec and abroad on a regular basis, measures were initiated to allow the transfer of expertise and awareness-raising of life with HIV/AIDS.

Finally, the creation and management of projects aimed at a quality of life with HIV/AIDS, accessibility to support for afflicted persons living in isolation and the partnership between resource groups, are areas of expertise developed by the Maison du Parc over the years.

The Maison du Parc is now "all of that."
Thanks to all our volunteers
The Maison du Parc exists because HIV/AIDS still exists, people still need help and men and women join their efforts to help those in need. They are:
Those afflicted by the disease who allow their needs to be measured and who help out around the Maison according to their capabilities

Our employees who chose community-based work and the HIV/AIDS cause

Our generous volunteers

The directors that protect and defend the mission, accepting the responsibility of volunteering on the Board

Active and honorary members who support the organization

The donors and friends of the Maison who ensure our financial survival and our ability to develop new programs

Our partners who collaborate and work with us
A Place of Schooling and Training
Sharing and the transfer of experience and expertise are also a part of the Maison du Parc's social role.
Every year, trainees from Quebec and abroad, come to familiarize themselves with community interventions specific to our organization. Although, most of our training sessions are subject to agreements between training centers, professional associations and our HIV/AIDS partners, some individual requests have been accepted. The training fields are numerous: support, care giving, psychological interventions, re-adaptation, social re-integration, nutrition, maintenance, management, etc. The duration of the training sessions varies according to the learning objectives.

In memory of Sylvain Thibault
I would like to thank the entire team at Maison du Parc for the quality of their services, personalized attention, gentleness and especially the compassionate care that you gave to my partner during his stay with you.

Everyone was exceptional. From the doctor and the CLSC palliative care nurse, to the hospice executives, management team, nurses, interns, volunteers, the cook and his fellow residents; everyone was always willing and ready to look after him or lend a helping hand.

During this difficult period, I greatly appreciated the proficiency, dedication and extraordinary empathy from all of the members of your team that came into contact with my partner. Your exemplary teamwork allowed me to remain close to him during his two month stay at Maison du Parc, until the very end. In his final moments, your care, unwavering and steady, twenty-four hours per day, afforded us the freedom and dignity to live fully in our mutual love for each other.

I would like to thank especially the residents of Maison du Parc, who have become friends and whom I will continue to visit on a regular basis. They became part of our daily routine. For both Sylvain and for me, they epitomize the mission of your hospice, where one finds love, friendship, and hope. Never give up the battle; you are the real deal, and you make an astounding team.

For me personally, I was deeply touched by everyone that I met and with whom I had the chance to speak. Once again, your gentleness, tenderness, and willingness to share your information and experience brought me great comfort in my time of grief, and helped me to better understand what we lived and experienced together.

Saying thank you will never be enough to express how deeply the mission of Maison du Parc touched me, what phenomenal support it offered to us both, and how you provided such a place of solace where Sylvain could spend his final days in peaceful dignity.

On behalf of Sylvain's family and from the bottom of my heart, thank you once again for the attention and care that you provided.

In deep sincerity,

— Serge Deschamps
In memory of my Mother
I want to tell the whole team at Maison du Parc how wonderful you all are – the best of the best!

Without all of you, your passion for people, your dedication and your work, I don't know what would have happened to me and my Mom. Your support, your smiles and attention to the needs of the residents ensure that we carry you in our hearts and that you have our most sincere trust.

You are part of an important period of my life and I can't thank you enough for allowing my mother to pass away surronded by love and respect.

I also want to thank all the residents who have been part of my Mother's life and who contribute to make the Maisondu Parc a place full of life, hope, friendship and love. I admire you a lot - you are real people and you made my Mother happy and stronger during this difficult part of her life. To her, you were part of her family and her heart. You were there for her joys and sorrows and you helped her to find love for life.

I adore all of you and I thank you for being there. In my eyes, you are the most wonderful people!!
Thank you!

— Jessica